Provide Cardiopulmonary Resuscitation (CPR)
Locations - Sydney CBD, Campbelltown, Miranda & Dee Why
---
The cost of CPR course is $55 in Sydney, Miranda, Campbelltown & Dee Why.
Don't wait to book a Course, call now on 02 9232 1010 or contact our team.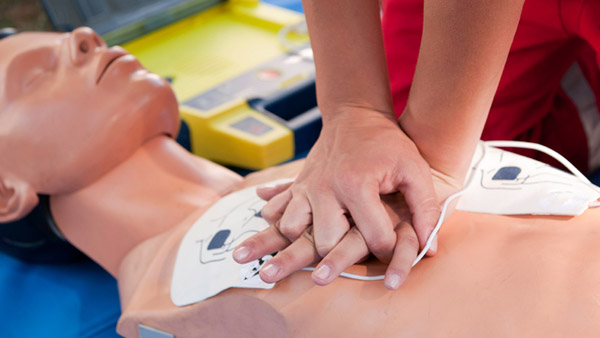 Course Details
This CPR course provides students with the skills and knowledge required to perform cardiopulmonary resuscitation (CPR) in line with the Australian Resuscitation Council (ARC) Guidelines.
This course applies to all workers who may be required to provide CPR, in a range of situations, including community and workplace settings.
This CPR course is suited to all persons, including:

Swim instructors
Childcare workers
Health specialists for CPD points
Personal trainers
New parents, families and carers
Sports groups
If organising onsite group training, we can facilitate the CPR course nationally.
---
Pre-requisites
It is important to note that this CPR course requires a level of physical ability to complete practical assessments. If your health or fitness restricts you from performing physical activities associated with this program, you will be able to participate but may not be eligible for a nationally accredited certificate.
TCP Training is not registered with CRICOS, as such we are unable to conduct training and assessment for those with study restrictions on their visa. This includes but is not limited to the International Student Visa (subclass 500), you can check the entitlements of your visa here.
This CPR course combines plain English, videos, photos, and questioning to ensure all learners are able to have the best possible chance at comprehending the required knowledge and skills. If you believe you will need assistance due to your Language, Literacy or Numeracy skills, please contact our office on 02 9232 1010 to discuss your training needs.
---
Assessment
Students will be assessed during the classroom session. Assessment will confirm knowledge and skills have been achieved to demonstrate competency across the unit.
Students are offered multiple opportunities to demonstrate knowledge and skills throughout the CPR course.
If a student is not successful in completing all assessments satisfactorily, they will need to rebook the CPR course at the full course fee.
---
Training Program
There are 3 components to this program:

External Theory Training. Can be completed either on our online portal or via an emailed copy.
Practical training in the classroom
Assessment for both knowledge and skills
The classroom session is a (4hr program including breaks).
---
Online pre-study requirements
Online study requires access to the following resources to complete the pre-study for this course:

Computer
Internet connection
Recommended that either Google Chrome or Mozilla Firefox are used
Microsoft Edge does not currently support our pre study
---
Certification
Once a competent mark is awarded, learners will be issued with a Statement of Attainment for HLTAID001 Provide cardiopulmonary resuscitation (CPR). This Unit of Competency is Nationally Recognised Training from Health Training Package.
CPR certificates are emailed to students however hard copy is available for additional fee.
---
Course Enrolment
The cost for this CPR course is $55 per person.
CPR course is delivered in Sydney, Miranda, Campbelltown& Dee Why for public.